According to the National Institute of Dental and Craniofacial Research, adults between the ages of 20 and 64 have an an average of 25 out of 32 natural teeth remaining. Missing teeth can take a serious toll on your self-confidence and make eating and speaking a challenge. Fortunately, dental implants provide a stable, secure foundation for dental crowns, bridges, or dentures. Dr. Arlene Caringal and her associates can place and restore dental implants at our Toronto and Scarborough, ON, locations. By practicing good oral hygiene and attending regular checkups, dental implants can last a lifetime.
What to Expect: Planning for Implants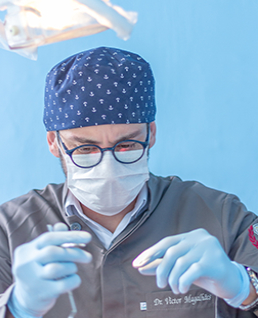 The first step of dental implants treatment is a consultation at our practice. During your visit, we will review your medical history and examine your teeth, gums, and jawbone using digital x-rays.
In order to qualify for implants, you should be free of periodontal disease and be healthy enough to undergo surgery. You must also have sufficient bone tissue in your jaw to support the implant posts. If you do not have enough quality tissue, you may require a preliminary bone graft or sinus lift. Keep in mind that this will add four to six months to your treatment timeline. Alternatively, you may be better suited for mini dental implants, which do not require bone augmentation prior to placement.
The Treatment Process
In most cases, Dr. Caringal can place and restore dental implants at her office. If you require more extensive treatment, we will coordinate with a partner oral surgeon and oversee your treatment.
Implant Placement
Before placing implants, our team will administer a local anesthetic to numb the treatment area. Using a surgical guide, we will then create an incision in your gums to access the underlying tissue and create space for the implant. After we embed the post in your jawbone, we will close the incision with sutures.
Receiving Your Restorations
Over the next three to six months, the dental implant will fuse with surrounding jawbone tissue. This process, known as osseointegration, is vital to the success of your implants. Once the implants have stabilized, you can return to our office to receive your restoration. We can custom-craft your crown, bridge, or denture out of the most durable, natural-looking material for beautiful results.
With implants, your dentures will never slip out of place or click when you eat.
Why Choose Implants
For the right candidates, implant-supported restorations offer unrivaled benefits.

Durability
Though restorations will need to be replaced, implants can last a lifetime with proper care.

Success
A study performed by the National Center for Biotechnology Information found that implants had a 94 percent success rate six years after placement.

Stability
With implants, your dentures will never slip out of place or click when you eat.

Aesthetics
Implants anchor restorations directly to your jawbone. As a result, they look more natural than traditional prosthetics.
Most importantly, implants can help to protect your jawbone from
degeneration, which is a common side effect of tooth loss.
Improve Your Quality of Life
When left untreated, tooth loss can cause excessive wear on healthy teeth, jaw misalignment, and bone loss. If you have missing teeth, dental implants can improve the form and function of your smile for years to come. To find out whether you qualify for dental implants, or to learn about our other treatment options, call us at (416) 646-1737
Locations
We have 2 locations in the Toronto area